Full name: Katy Gifford

Job title: CEO

Joined Aubin in: 2014

1. Tell us about your role - what does an average week look like for you?

"As a CEO, my role is extremely varied. Two weeks ago, for example, I was in the office on Monday, then I flew to Houston on Tuesday, and had meetings with customers and potential partners on Wednesday. I flew to Birmingham, Alabama, on Wednesday night to meet another potential partner on Thursday, before flying home again on Friday.

"However this week I have mostly been in the office, working on legal agreements (which I get involved in due to my background) and HR-related activities. Then I'll be attending OGUK tomorrow for the contractor forum, and I have two business dinners later on in the week - one with a bank and one with our customers at the ICOTA dinner.

"So my job has a lot of variation in it - no two days are the same."

2. What do you enjoy most about your job?

"I really like developing the people of the company and helping them move forward within the organisation. We have quite a young workforce here at Aubin, so we make sure there's lots of training and development going on so they can grow and progress.

"For example, one of our employees, Emilia, moved from a chemist-based role in Ellon to a sales role in the Middle East. We also work with Modern Apprenticeships to make sure everyone is getting what they need from their career and they're getting progression opportunities.

"We also have a very passionate team, and we always aim to create a culture where everyone can develop and test new ideas, and get involved in strategy discussions. We genuinely want to listen to their ideas, and be as open as possible about our strategy and results, so that we can all point in the same direction and get the most out of the full team. We have put a lot of effort into increasing the collaboration across the business between teams and offices and this is certainly paying off.

"Obviously, our staffs' individual career goals need to fit with our business strategy for us to be able to deliver our targets, but helping our employees advance in their roles is something I really enjoy being able to do as a CEO.

"I also like to make sure we enjoy success within the company when we have good months. I think that's really important for building an engaged team who are passionate about their work."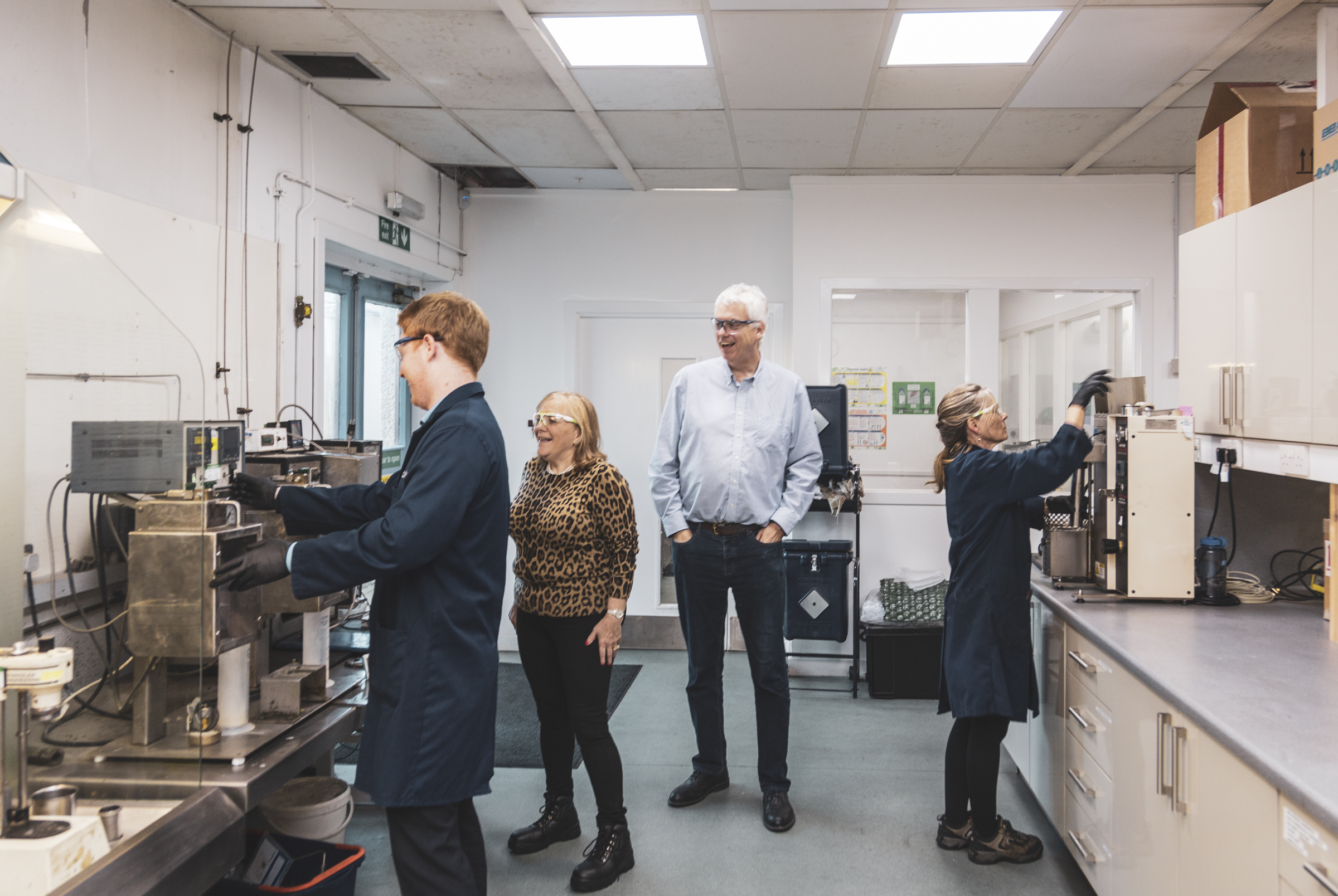 3. What are some of the biggest challenges you face day-to-day and how do you overcome them?

"As the CEO of an SME in the energy sector, it has been a challenging time following the downturn. We have had to stay very lean in terms of people, and this is what keeps us agile and flexible for our customers.

"We have ambitious growth plans and are doing really well, but achieving these goals takes a lot of hard work by the whole team. Managing this is a key challenge for us, that we constantly need to keep balanced.

"Managing people is always challenging, especially when you are trying to keep everyone going through tough times in the business. You want to do your best for people, and allow them as much scope to grow as possible, but sometimes you can't do as much as you like because of the external environment. You've got to balance people's own personal ambitions in their career with the company's requirements.

"I think it's especially difficult managing creative people in a space that's as innovative as Aubin. We're constantly creating new products to meet our customers' needs, but it can be difficult to get innovations introduced from the lab into real life. So it can be hard keeping the creative elements of the business motivated, if they're getting knock backs on the solutions they have developed. It's about keeping them motivated and persistent, and celebrating every success we have."

4. Have you experienced any challenges being a female CEO in the energy sector?

"I don't think I face challenges because of this, but I'm definitely fed up being one of so few women in a room. Being the "token woman" 30 years ago seemed vaguely acceptable, but it's frustrating now.

"My view is that if you're given an opportunity, you should always take it. Many women don't turn up, but we need to turn up and take part whenever we can. This is the view I've always taken, and I think this helped me get to where I am today."

5. What led you to the role of CEO at Aubin?

"I never had a master plan of becoming a CEO, but I was always prepared to take opportunities that presented themselves - even some that were not necessarily obvious. Having this attitude meant I have been able to be involved in a lot of international work throughout my career.

"It also helped that my husband had a business of his own, which made him flexible enough that if I was travelling, he was here for our children when they were small. That enabled me to take opportunities, but I also really enjoyed stepping out my comfort zone and saying yes to things."

6. What top three skills or traits do you think someone needs to pursue a role as CEO?

"I would say you need to have a sense of humour, you need to be resilient, and you have to listen.

"I've worked for CEOs in the past who don't listen and it has a really big impact on preventing the organisation from progressing. Good ideas can come from anyone in the company. Obviously you gain more experience as you get older, but that doesn't mean you are the only person with a decent idea. Everyone deserves to be listened to, no matter what their role is or how senior they are in the company.

"For example, one of our apprentices took the lead of one of our teams in a team building exercise, which was really interesting for me. The team was going off track and needed a plan to refocus, which she facilitated. That to me is an indication of where she might end up in her career, and showed potential to move forward. It also shows how important it is to listen to everyone, no matter what level they are at."

7. How did you find the transition from CFO to CEO, and what helped you adapt to this role?

"Paddy, our previous CEO, wanted to change his role to CTO so that he could have a heavier focus on technology and creativity, which he is so passionate about. The board went out to look for someone to fill the role of CEO, but my colleagues asked me to throw my hat in the ring and I managed to get the job. So in November 2018 I transitioned to my new role.

"I'm more of a structured person than a creative person, so I've brought more structure to what we do, as well as a different perspective.

"The biggest change was spending more time with customers than I had before, particularly those that are in the Middle East, and letting go of some of the day-to-day financial responsibilities I had as CFO.

"I would say my background in finance has definitely helped, particularly in this market. A lot of focus has been on finance-related activity, and we recently refinanced the business. It's something that the CEO has to get involved in so it's been a big part of what I've brought to the role.
8. What is Aubin's biggest strength, and what makes the company stand out in the marketplace?

"I would say it's the fact that we are so customer focused, and really try to provide solutions by being responsive to their needs. Customers are coming to us with problems they need sorted, and we work hard to tackle them.

"As an organisation, we look up and out at the wider industry to help us solve our customers' issues and keep us aware of the societal impact we have. We try to be environmentally friendly as much as possible. We also recognise that our solutions can help solve problems in other industries, such as water treatment and renewables, which is really exciting. We want to play our part in the Energy Transition and in making the continuing oil and gas industry as low impact as possible.

"Our ability to take what we do and look at other ways to interact with the world is really important here at Aubin. We look forward all the time, as opposed to forever looking back at what we've done in the past. Taking the lessons we've learned and thinking about what's next is what makes us so innovative and progressive as an SME.

"Innovation is what we are all passionate about at Aubin, and it's what we are all trying to achieve as a company.

"We have three new people joining in the next few weeks, so a big focus will be onboarding them and getting them into Aubin family and being open to taking on any new ideas they might have. I hate the phrase "that's not how we do it here"; it's not the right attitude to have.

"I think in terms of our staff, we've set ourselves apart in the industry by coming through the downturn even stronger. We did lose a few people, but we managed to keep everyone together and focused through the hard times which was a big accomplishment.

9. What goals do you have for the company over the next few years? What's next for Aubin?

"One of our key goals as a company is to double in revenue in the next three years. Because we are quite a small, agile company, we are able to grow quite a lot without adding loads of people.

"We are also working hard to extend our reach into other parts of the world. Right now we are predominantly focused in the eastern hemisphere, but we would like to be doing more in the Americas. This won't necessarily be on our own - perhaps we will achieve this with partners - but we are aiming to make the most of the opportunity for us over there.

"Another goal we have is the commercialisation of some newly developed and very exciting products. Some of them are ready to go - we are just waiting for field trials, and hopefully we will be able to accomplish this very soon."